Bournemouth University Gateway Building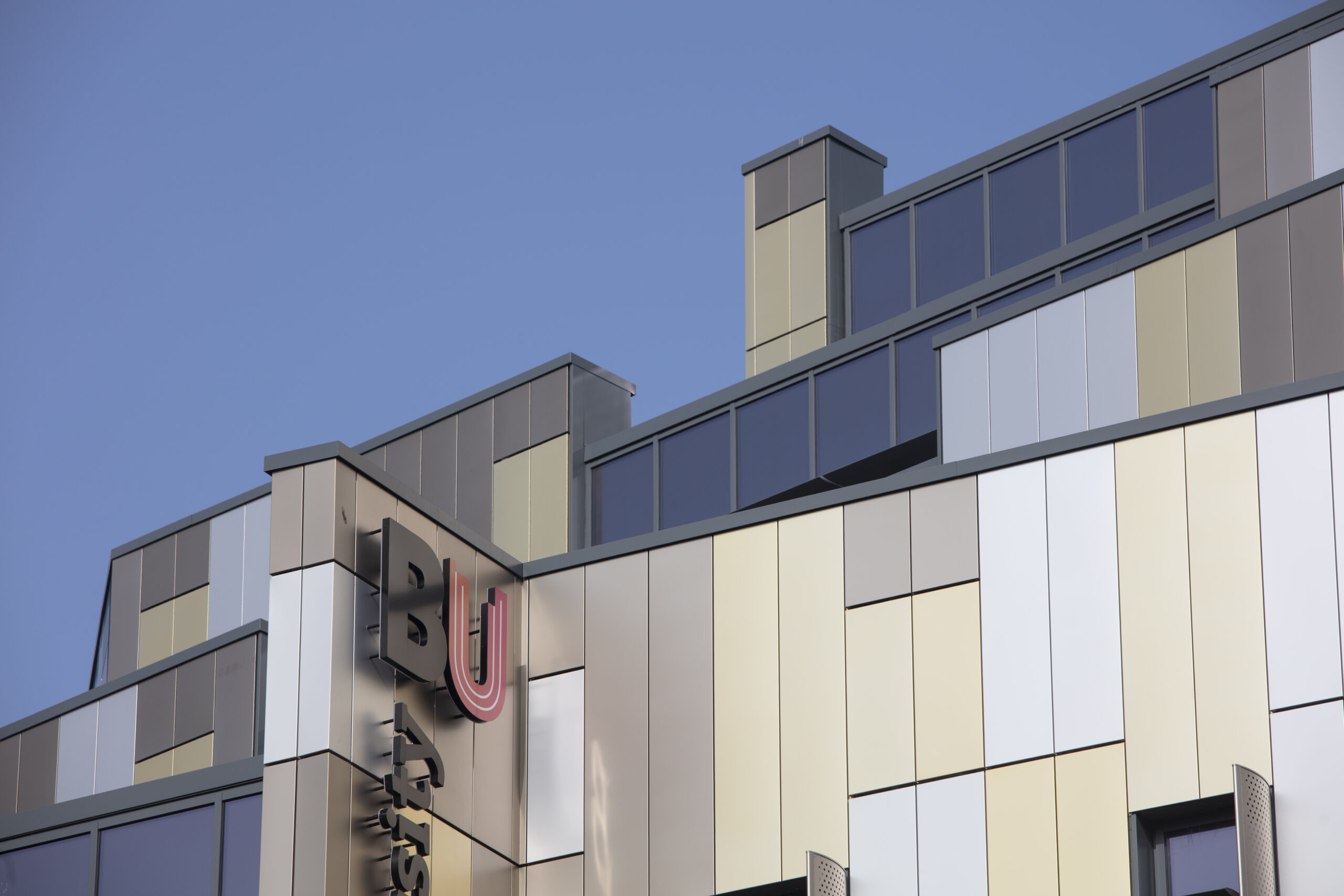 The gateway to Bournemouth
This prestigious building has played a big part in Bournemouth University strategic development.
Completed in the Autumn of 2020 in readiness for the new university intake, TAC Projects worked hard to successfully deliver the project for main contractors Kier Construction.
TAC Projects were responsible for designing and installing the external façade construction. This included all necessary secondary SFS infill steel frame work, sheathing board, breather membrane insulation, cavity fire stopping, helping hand support system and finally the multi-coloured anodised aluminium rainscreen panels.
The Design Process
During the pre-construction design process, TAC Projects worked closely with the architect Atkins Global and our selected panel manufacturer and supply chain partner Sotech, to ensure the external façade rainscreen panels were designed and installed in such a pattern that appeared even and seamless.
In April, TAC Projects were awarded Subcontractor of the Month in recognition of our performance in regards to health and safety. We have now finished all of the secondary steelwork, most of the fire-stopping and insulation, along with the installation of helping hand brackets.
The construction process
All external façade components were installed safely from mast climbers to the full perimeter of the building.
In April 2019, TAC Projects were awarded Subcontractor of the month in recognition of our performance in regard to Health and Safety on site.
TAC Projects completed our package works on programme to allow Kier Construction to successfully hand over the completed project to the client Bournemouth University on time.
Recognition
TAC Projects were awarded winner in the NFRC UK Roofing Awards 2021 for 'Rainscreen Project of the Year' for Bournemouth Gateway
TAC Projects were nominated in the CN Specialist Awards 2021 for 'Specialist Project of the Year' for Bournemouth Gateway. 
This exciting building brings together research, education and practice in both the health care industry and social care services industry all within one stunning building, and TAC Projects are proud to have been part of the collaborative team that successfully delivered it. 
If you want to know more details about this project or want to speak to us regarding a potential future project, please get in touch.